June 2020 Pre-Conference Newsletter

The Council of ISMS is the governing body, consisting of representatives appointed by the member institutions. The presidency rotates with the hosting of the annual conference, and the past, present, and future presidents share decision-making between meetings of the Council. 
This newsletter will bring you up to date on progress since the 2019 Conference in Vienna, and help you prepare for the 2020 conference in Helsinki. ISMS 2020 will be our first virtual conference because of anticipated restrictions related to Covid-19. This presents an important opportunity to expand cooperation free of the costs of travel.
Register on the ISMS Website –  www.isofms.org – "join us now" button,
to receive updates and access to resources.
Past President's Message – Wolfgang Peischel, Austrian National Defence Academy
The Vienna conference in November 2019 took a significant step forward in the debate about the nature of military sciences and the role of the Society in supporting our institutions in their missions. On one side, we see the core of military science as the disciplined study of subjects not addressed in any civilian university, particularly military strategy and operations. These studies are concentrated in working group 1, War Studies, and our new Working Group 10, Strategy.  On the other side, we recognize a wider range of sciences also addressed in other universities, and reflected in all our working groups: history, technology, leadership, law and ethics, security, society, economics, and education. My introduction to the conference, posted now under past conferences on our website, provided a case for the former view, and the Austrian National Defence Academy continues to work towards a doctoral program in Military Science. In our plenary debate, Anders Sookermany took the second view, and the Handbook of Military Sciences reflects the broader spirit of military sciences, and the contributions of our working groups. 
In the coming months we expect to publish a volume from the conference papers, and both papers and abstracts will be available on the website. Looking back on 2019, the second time Vienna hosted the ISMS conference, we may remember it as the last of the 'normal' conferences, before the age of pandemics, but we hope to see you all again in person in Canada in 2021.
Wolfgang Peischel, ISMS President, 2018-2019, Austrian National Defence Academy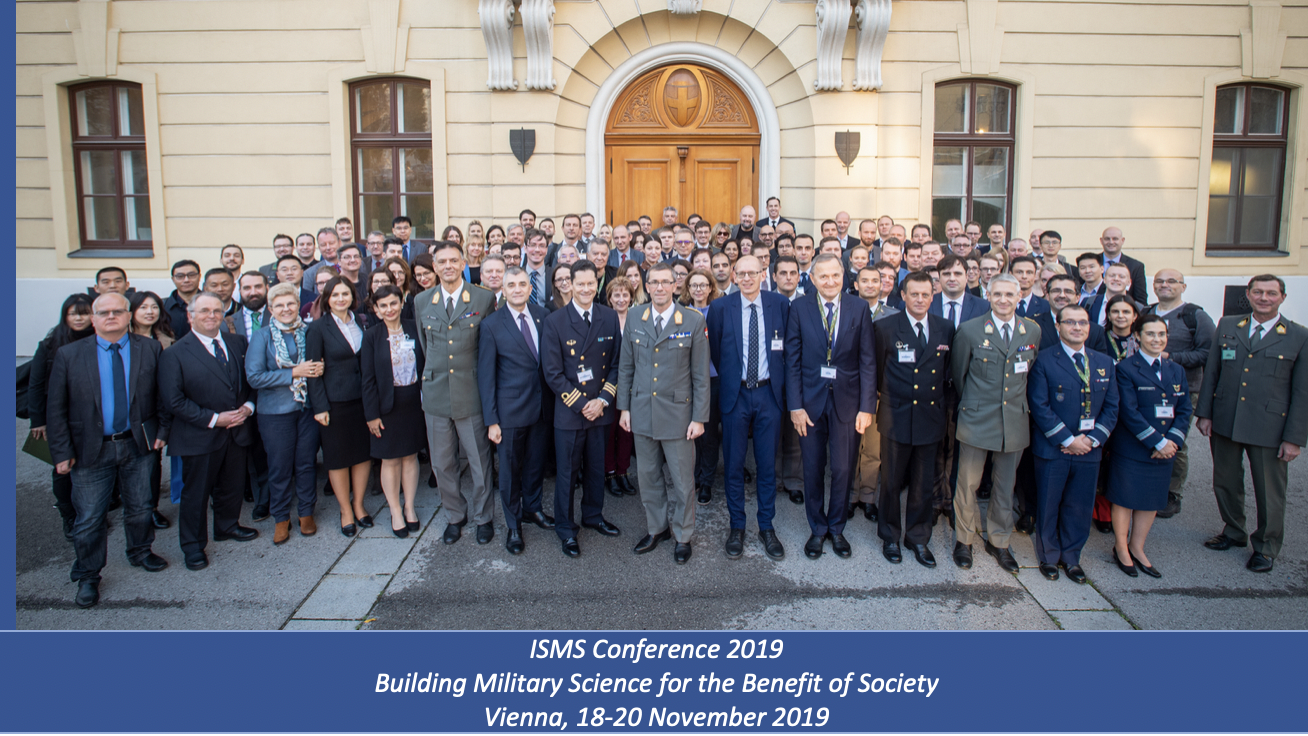 President's Message – Hannu Kari, Finnish National Defence University
The Covid-19 pandemic has disrupted all our institutions and will be reflected in our revised conference theme—Military Sciences vs. Open Sciences, with the Scent of Covid-19 Pandemic. We are concerned with how we conduct defence education and research, balancing secrecy and openness, and of course how we respond to the challenge of a pandemic while doing so.
With the prospect of a second wave of the pandemic extending travel restrictions, we have opted for a virtual conference. A first phase, 13-26 October, will allow discussion within working groups on the learning management platform Moodle, and a second phase, 27-29 October, will allow online connections in the usual plenary and panel sessions on Zoom. 
Although we will miss seeing you all in person, we hope that more people will be able to participate without the costs of travel and with the reduced conference fee. Please note the call for nominations for our awards and stay tuned for announcements about prizes and incentives for participants. 
We look forward to giving you all a warm virtual welcome to Helsinki, and to getting the most out of our new format.
Hannu Kari, ISMS President 2019-2020, Finnish National Defence University
President-elect's Message – Harry Kowal, Royal Military College of Canada
ISMS has accomplished a lot in a dozen years and is evolving from a network of individual scholars presenting their own research to a platform for institutional cooperation. Next year in Kingston, we expect to continue the business meetings for military research centres, libraries, and journals, and look forward to exploring collaboration on curriculum comparisons, technical staff training, and leadership for social resilience. 
We are planning a physical conference at RMC's beautiful campus on Lake Ontario, 11-14 October 2021. We will have some options for virtual participation, but we recognize that there is no substitute for meeting people face to face, and we look forward to seeing you in person in Kingston next year. 
Harry Kowal, ISMS President, 2020-2021, Royal Military College of Canada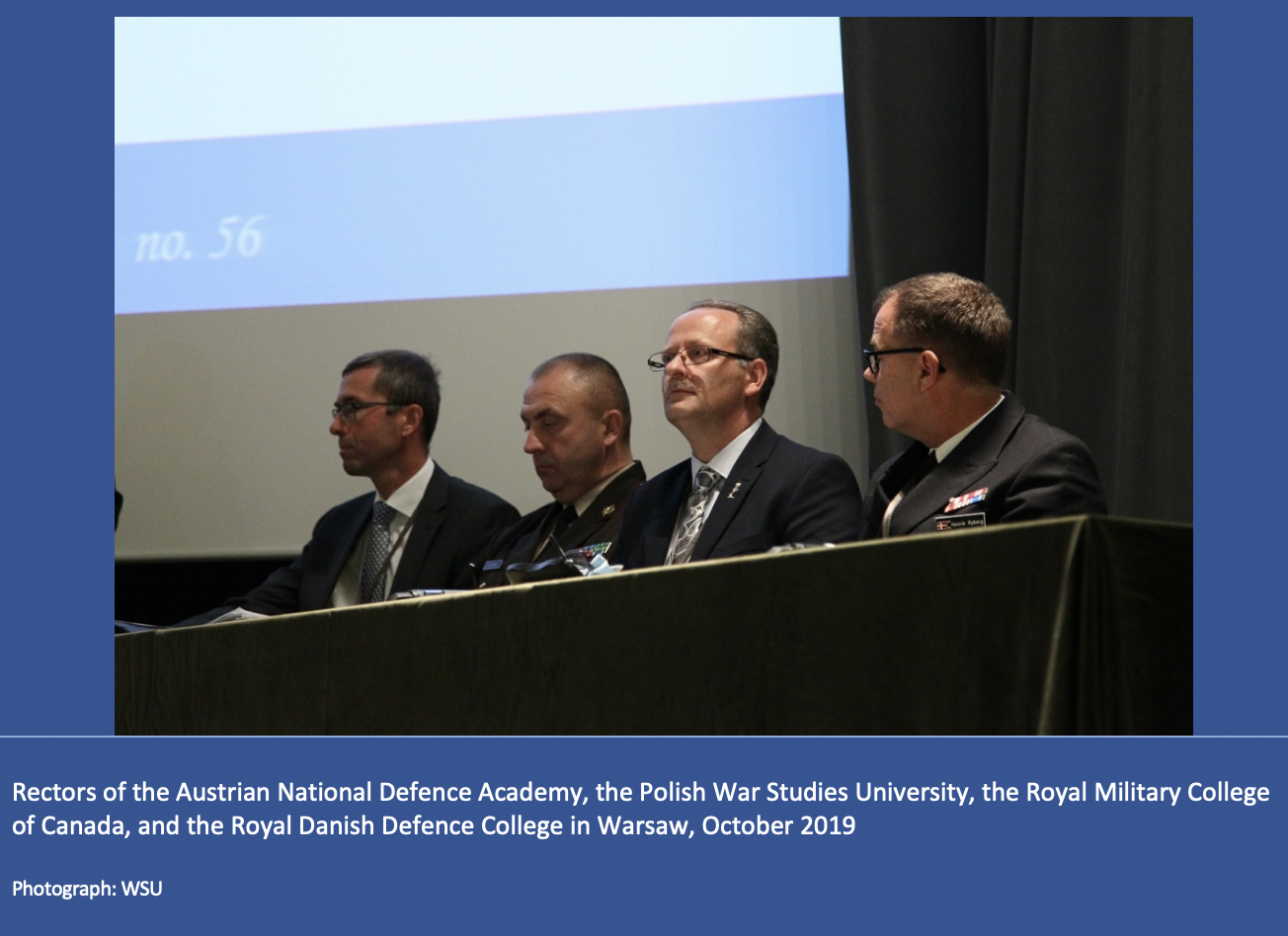 The Call for abstracts is now on the website. Abstracts can be submitted directly through the link here.  Other links will be updated as the conference approaches.  Abstracts can be up to 1000 words long, and should include 
The research problem or question investigated
The basic design of the study, including sources and methods
The major findings of your study
A summary of your interpretations and conclusions
The relevance of your work for the specific audience and wider community of practice
Please indicate the working group or groups that you think are most appropriate for your paper.  Note that papers addressing the themes of the conference or the priorities of the working groups noted below will be given priority. 
We anticipate that it will be possible to present and discuss posters using the virtual format on Moodle. 
Arrangements will be made for online payment of the €50 conference fee. Details will follow on the conference page of the website.
The Conduct of the Conference
The "offline" (asynchronous) discussions 13-26 October will be moderated by working group Chairs. These discussions will only be open to registered participants in the Conference.  Presenters will be able to post abstracts, slide-presentations, links to a Prezi, posters, full papers, or videos of a presentation.  All registered participants will be able to post comments, questions, or discussion points over the two-week period. Chairs are not expected to be online full time, only to check in periodically, and to draw deductions about how best to organize the Zoom panels during the second phase of the virtual conference. Working group chairs will decide how best to run their parallel sessions in Zoom, including appointment of facilitators, discussants, or rapporteurs.  Depending on the number of participants in a session, allowing presenters to present may not be the best use of time, since the presentations are available beforehand. Some panel sessions will be more discursive than others. 
There are some advantages to a virtual conference, and we anticipate participants from further afield because there will be not travel costs, and a reduced conference fee. Normally, the conference fee covers meals and snacks. The reduced fee will subsidize additional electronic and security costs. We are still learning from other conferences about some of the challenges. 
The conference committee is introduced on the Conference Staff page. Kari Sainio is the Conference Coordinator. Matti Muhli will work with the President on academic affairs. Suvi Manelius and Helmi Saarela are responsible for public affairs and communications. Tuomas Tihula is responsible for technical aspects.  
Although there are some advantages to a virtual conference, the Council recognizes that there is no substitute for personal contact and plans to return to the traditional model at the earliest opportunity. We are looking forward to seeing you in Kingston, Canada in 2021 and Lisbon, Portugal in 2022.
Nomination for Awards
Past awards are listed on the ISMS website and announced at the end of each conference.  To nominate potential recipients, please send an email to the Secretary at info@isofms.org.
The ISMS Distinguished Service Award may be awarded at the discretion of the Council to those who have made an exceptional contribution to the organization.
The ISMS Long Service Award may be awarded to participants in the organization who have served for a significant portion of the life of the organization, contributing to its goals and objectives. 
The ISMS Young Scholar Award recognizes promising new contributions to the field of military sciences.  It may be related to work on a thesis in a member institution, or publication in a journal related to a member institution. Anyone may nominate a young scholar. The Decision will be made by Council.  
The ISMS Veteran Scholar Award is for seasoned scholars who have made a significant contribution to military sciences and professional military education in the international context, judged by their peers. Anyone may nominate a veteran scholar. The Secretariat will hold a poll to determine allocation of the award.
ERGOMAS Conference – Tartu, Estonia, July 2021
The 16th biennial ERGOMAS conference will take place in Tartu, Estonia, 19-23 July 2021, at the University of Tartu, Institute of Social Studies. The theme for this conference will be Dynamic armed forces in changing societies: challenges for research in and on the military. More information will follow soon. 
The International Sociological Association (ISA) Research Committee 1 (RC01) on Armed Forces and Conflict Resolution was unable to hold its July 2020 conference in Stellenbosch South Africa, and members have been invited to participate in the ERGOMAS conference in 2021. 
President of ERGOMAS 2019-2021
Institute of Social Studies, University of Tartu, Estonia
ISOMA Conference – Norwich University, USA, October 2021
The International Symposium on Military Academies (ISOMA) was launched by Korea in 2006 and has been held biennially since 2007.  While ISMS serves institutions engaged at the highest level of professional military education—typically defence universities and higher command and staff colleges offering advanced degrees—ISOMA serves entry-level and pre-commission military academies.  In 2017 Michel Maisonneuve of the Collège militaire royal de Saint-Jean in Canada led the establishment of the International Association of Military Academies with the mission "to promote knowledge and competency sharing in the field of training and education between member military academies."  
The ISOMA Conference was held at Military Academy Karlberg in May 2019 and will be held next at Norwich University in Vermont, USA, in 4-8 October 2021, immediately preceding the planned dates of the ISMS Conference in Kingston, just a short drive away. For those travelling a long way, this is an opportunity to plan to attend two conferences for the price of one intercontinental ticket! 
Norwich University is America's oldest private military academy, and a unique institution worth exploring.
For details about ISOMA 2021 at Norwich University, please see www.norwich.edu/isoma.
Associate Professor, School of Justice Studies and Sociology
Peace and War Center, Director

Proceedings of ISMS 2019 Vienna
The Proceedings of the 2019 Conference, Building Military Science for the Benefit of Society, will be published online.  The Book of Abstracts and the program can be found on the ISMS website under past conferences. 
Working Group Notes
This portion of the newsletter reflects plans and notifications received from each working group. For reports of past activities, please see the website under each working group.
Several working groups are looking for chairs or co-chairs to share the leadership tasks associated with the online conference. Chairs and co-chairs are asked to review submissions, host online discussions, allocate presentations to panels, find panel chairs or discussants, and recommend papers for publication or awards.  
Marzena Zakowska has published a full report from 2019 conference, which can be found on the ISMS Blog and on the WG1 home page.  
The contribution that science makes to readiness and propensity for war are worth exploring. Can scientific advances be shared with confidence that they will not be used against their originators? How do pandemics affect belligerent capability and motivation?
A New Journal, Global Military Studies Review, has been launched by Simon Fraser University. It is peer reviewed, open access, and may be a suitable target for participants presenting in WG2.
The historical relations between scientific progress, new weapons and secrecy, or military roles in pandemic management might be explored at ISMS 2020.
WG3: Military Technology. Hannu Kari
The Director of the Applied Military Science program at the Royal Military College of Canada is looking for ways to enhance the ability of the program to address new areas of study—particular cyber security, artificial intelligence, and nano-robotics—while preserving capability in traditional areas of study. Invitations to a special panel discussion will follow.  In keeping with the theme, the question of what can be shared will be addressed. 
WG4: Leadership, Command, Control, and Basic Competencies. Soil Paananen
Although leadership has been central to the work of this group, basic training, new forms of operations, and socio-cultural issues like emotions and security culture have also been addressed in past conferences. The leadership climate for open science in defence universities, and the leadership challenges of Covid-19 are areas we expect to consider in 2020.
We are looking for a new chair and co-chair for this working group. If you are interested or know anyone who might be, please contact your Council member or the Secretary, info@isofms.org
Laws and ethics with respect to intellectual property, restrictions impeding the flow of knowledge, and moral hazards related to pandemic response might be worth of exploration in 2020.
WG6: Security and Defence Policy. Hans Lampalzer, seeking co-chair
We are looking for a co-chair for this working group. If you are interested or know anyone who might be, please contact your Council member or the Secretary, info@isofms.org
Policies on sharing or restriction of scientific knowledge, technical exchanges, and requirements to publish or share databases are particularly relevant.  The impact of pandemic on cooperation and competition within and across alliance lines might also be explored.
Marianne Boucher will take a new position in September, so there may be an opportunity for another young scholar to work with veteran sociologist Rene Moelker. Contact the Secretary at info@isofms.org. 
Markus Gauster has published a full report from the 2019 conference, which can be found on the ISMS Blog and on the WG1 home page. 
A special call for abstracts for WG8 is attached on the website and sent out by Blog. The theme is International Military Trade and Export Controls—Open or Closed? A wide range of related subjects may also be addressed by the working group, including: The economic dimension of contemporary armed conflicts and conflict resolution; Economic Impacts of Peace Operations on Host Nations and in the homeland; Whole of Nation-approaches and change management for external engagement. 
Nuno Loureiro's report is posted on the Blog and on the WG9 page of the web site. Those interested in contributing to a special issue on Military Education. 
An additional page has been added to WG9 summarizing military education responses to Covid-19. If you would like to add to this, please contact the secretary info@isofms.org. 
Institutional management of curricular information, and secrecy and openness in the content of course materials particularly for senior leaders are relevant to this year's theme. Online education alternatives and simulations for higher command and staff education are also expected to be a major area for discussion at this year's conference. 
This is the second new permanent working group established in the life of ISMS. It is particularly significant because of the debate about the core and ancillary military sciences which was initiated in Vienna in 2019. 
Strategy implies coherent action to achieve objectives in the face of opposition or hostile intent. New ways to understand the strategic risks of sharing sensitive information or research results are particularly germane to the theme. The concept of defending against the consequences of pandemic and the risks of weaponized disease might also fit in this working group.
Handbook of Military Sciences
The Handbook, published as a free Springer online reference, is intended to be an essential reference work and starting point for mid-career leaders undertaking research for graduate work in military sciences, often as part of command and staff college courses. 
Under the Editorship of Anders McD Sookermany, the Handbook is progressing well. Five of the chapters have been published and are now available free at SpringerLink. At the moment several more chapters have been accepted for publishing and are in production, whilst many more are in the review process or being written. The aim is to have all 60+ chapters of the first edition published online by summer 2021 and a book launch of the hard cover version at the ISMS2021 conference in Kingston, Canada.
We would appreciate it if you would follow us on these social media platforms and spread the information into your organization and networks.
Business Meetings
In March 2019, Council conceived the idea of inviting cooperation amongst the engines of the military sciences in small defence universities.  Research centres are involved in generating new knowledge through research projects, conferences, and workshops, and often use occasional papers or websites to make their work known. Other centres are instrumental in developing content for curriculum or policy development. Military libraries are instrumental in curating and preserving knowledge in military sciences, and military journal editors play a key role in selecting and disseminating new knowledge and shaping debates.  Three separate meetings and a plenary session were held on 20 November, attended by people who had for the most part come to attend the conference. 
An advantage of the virtual format is that we might be able to connect more of the key people in each group, although without the social lubricant of coffee and breaking bread together. 
To move forward with the project of mutual improvement through collaboration, please contact the ISMS secretary, David Last, info@isofms.org:
If you would like to join one of the business groups;
If you would be interested in leading one of the business groups;  or 
If you have a project with which the working groups might assist.
Military Research Centres
The Research Centres business meeting was attended by 12 people from six countries, under the co-chairmanship of Carsten Roennfeldt of the Norwegian Defence University College, and Martin Nassua of Helmut-Schmidt University of the Bundeswehr, with Klara Krgovic serving as as rapporteur. 
The meeting found common interests and identified the desire for a repository of information about military research centres, funding, and planned activities. The problem with institutional websites is that they report what has happened or what is firmly projected, rather than what is possibly planned, and malleable and open to cooperation. 
Participants agreed to develop a database of institutions, listing points of contact and major projects. A protected area of the ISMS website might be useful for this.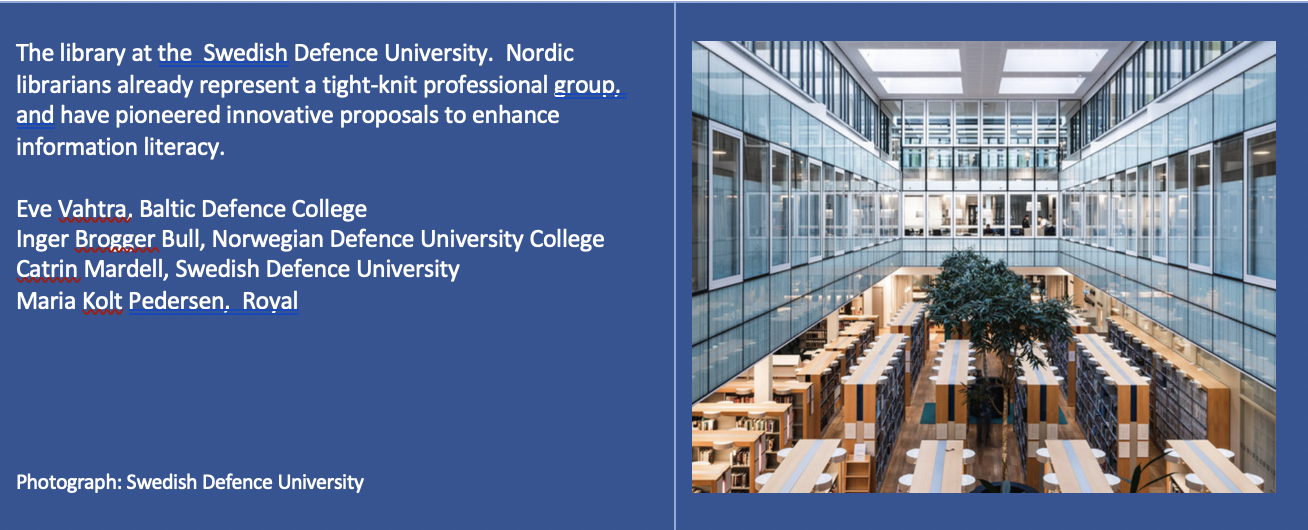 Military Libraries
The business meeting of military librarians was co-chaired by Anu Alatera of the Finnish National Defence University, and Catrin Mardell of the Swedish Defence University. The Rapporteur was Sabrina Kiss. It was attended by five librarians who had met earlier in the conference. The Nordic librarians are well connected and took the lead in a meeting that did not provide much new for the participants. One conclusion is that there is room for wider collaboration and mutual learning from librarians who do not routinely meet, but this is difficult because most librarians do not have research and travel budgets. The Helsinki virtual business meetings present an opportunity to widen the circle of discussion about common challenges, including balancing electronic journal acquisition and shelf-space, curating government reports and electronic "grey literature" used widely in comparative national research, and establishing protocols for wider sharing based on the Nordic model. 
Nordic librarians also shared a proposal from the Anna Lind Library at the Swedish Defence University (Catrin Mardell, catrin.mardell@gmail.com) for an interactive project to enhance information literacy. Sweden is willing to share this tool with other military university libraries.
The libraries of the institutional members of the Central European Forum on Military Education (Czech, Estonia, Croatia, Hungary, Poland, Austria, Romania, Slovakia, Slovenia, and Serbia) might be invited to the next business meeting for an exchange of information about institutional libraries and curating military sciences.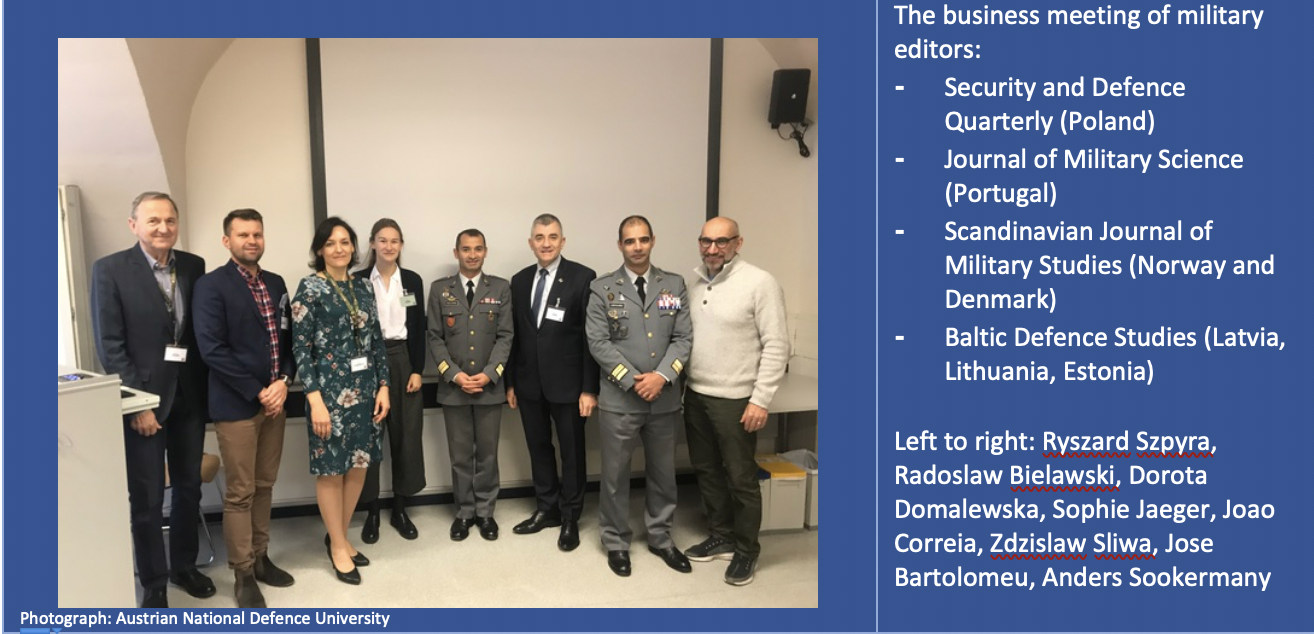 Military Journals
The business meeting of military journal editors was chaired by Dorota Domalewska of the War Studies University, Poland, editor of Security and Defence Quarterly.  Sophie Jaeger served as rapporteur and attended by editors of four military journals.  
There was a strong focus of discussion on maintaining and improving the quality of military journals, including peer review, indexing, and related topics. A central problem for editors is finding the right scholars of military science to serve as peer reviewers.  Conducting peer reviews in a professional way also requires improvement. A workshop was proposed at Helsinki to establish a common definition of peer review in military sciences, and to use ISMS as a platform to connect editors to potential reviewers.
The suggestion to establish a new journal for the Society was rejected. Rather, editors prefer to strengthen collaboration amongst existing journals with the aim of raising the quality and standards of military science articles. Improving international diversity of authorship will help to improve journal rankings and impact factors.
Peer Review Workshop for Military Journals
The business meeting for military journal editors at the Vienna conference recommended a workshop on peer reviews in order to improve the rigour of critiques available to editors, and to improve the general quality of military journals. It is recognized that military university journals must serve several masters—they must be academically rigorous, but also serve the military profession, defence department, and armed forces.  But they serve none of these masters unless they strive for better scholarship. 
Dorota Domalewska, Editor in Chief of Security and Defence Quarterly, will lead the editors' meeting and peer review workshop.  We expect to invite people from the publishing and indexing industries to present on aspects of the industry that might assist editors in improving journal quality.
Hall, J. L., Hatcher, W., McDonald III, B. D., Shields, P., & Sowa, J. E. (2019). The art of peer reviewing: Toward an effective developmental process. Journal of Public Affairs Education, 25(3), 296-313.
New Faculty and Young Scholars
There will be an opportunity for new faculty at military universities and young scholars who have recently started research in the field of military sciences to connect with each other and with more seasoned researchers and faculty in a special forum during the "off-line" pre-conference, 13-26 October.  We ae looking for ISMS veterans to help host this forum.  Please contact the Secretary or the conference organizer, Kari Sainio. 
Global Caucus – Forum for the Wider Military Sciences Community
Since its inception, ISMS has been primarily a Europe-centred institution, although we have had many participants from further afield, including Africa, the Antipodes, the Subcontinent, and the Pacific Rim.  The virtual format this year presents an opportunity to broaden the discussion of military sciences to individuals and institutions anywhere in the world. 
Institutional membership in the Society—conferring representation in the governing Council—is by invitation and is limited to small democratic countries. Small countries are defined arbitrarily as having a population below 50 million, and democratic countries are defined as having a suitable score on various indicators of political and social freedoms.  Institutional members are the highest military educational institutions in their country, typically either having or seeking the status of accredited universities and offering or seeking to offer post-graduate degrees and advanced professional military qualifications. Participating organizations, without representation on the Council, and without the obligation to host events in rotation, are not held to this standard. 
Individuals in their personal capacity from any country or institution are welcome to register on the ISMS website and participate in conferences. 
The purpose of a global caucus is to widen the discussion of military sciences, and welcome fellow military professionals and scholars from anywhere in the world to contribute to our deliberations. 
The Global Caucus of ISMS will be hosted by Professor Frank-Michael Adam, Head of Department, Nautical Sciences, School of Military Science, University of Namibia. It will consist of an asynchronous discussion forum during the pre-conference period, 13-26 October, with the aim of determining how best the Society can engage with the wider Military Sciences Community through virtual means.
International Curriculum Comparison
Curriculum revision is a regular part of professional military education. Both member institutions and scholars participating in ISMS conferences have been collecting information about the content, context, and pedagogy of professional military education. Some of the results are now stored on the ISMS website in the resources section. If you would like to contribute, or if you are looking for specific points of comparison, please contact the Secretary. 
Website Updates
If you have explored the resources section of the website, you will have noticed that some sections are better populated than others. If you would like to post a blog or notice, please send it to the Secretary. Conference and publication notices are typically posted under news and events of interest. Reading lists are posted when received. The page listing links to institutions is unrestricted, and useful links are welcome. "Course help" includes sections for programs, course syllabi, course readings, and course notes – these will only grow with contributions from members.  For the page, "Subject Experts" only one CV has been submitted. We will drop this page if there is no interest. Similarly, the Digest Groups—set up in 2017 to provide a ready reference to new work in the field of each working group—have not been used and might be deleted.
If you have material to add, or suggestions about how better to use the web site as a platform and hub for improvement by our members, please contact the Secretary.